If someone you know is feeling under the weather, this comfort care package featuring ROYALE® facial tissue is a sure-fire way to jump-start their recovery.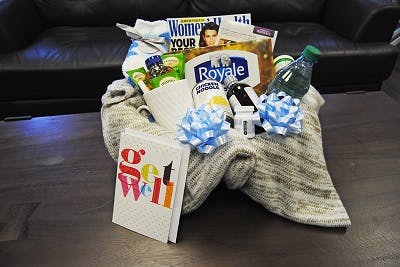 What you'll need:
ROYALE® Facial Tissue

Bottle of water

Packets of Twinings® tea (lemon, peppermint or green tea)

Bottle of honey

Softlips® Cube lip balm

Cough drops or syrup

Mentholatum® Natural Menthol Rub

Pain/fever medication

Wet Ones® Antibacterial Hand Wipes

Soup (homemade or canned)

You can also add in things like fuzzy socks or a small throw blanket for added comfort, or even a book, a small toy, a magazine, or DVD if budget permits (to pass the time in between naps)
Instructions:
Assemble all items into a basket.

Add in a message about drinking plenty of fluids, getting plenty of rest and making sure to use those facial tissues to keep germs from spreading.
Even if a cold is already underway, this comforting gesture will go a long way in helping anyone feel better quickly.