Protect your breakable ornaments with this handy (and inexpensive) trick.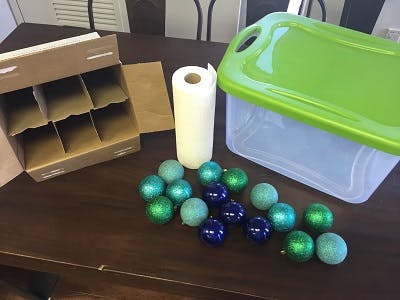 What you'll need:
ROYALE® Tiger Towel® paper towel

Cardboard box or a plastic storage container

Ornaments
Instructions:
First get a cardboard box—the ones with dividing slats for bottles are the best—or a plastic storage container (if your ornament will be stored anywhere water may get to.)

Next, sort your ornaments by size and weight.

Wrap each ornament with a layer of Tiger Towel® paper towel to create padding around the piece.

You can also add an extra layer of cushioning between items by crumpling up Handy Half Sheets® of Tiger Towel® and tucking them into any gaps, so ornaments don't roll around.

If you're using a box with dividing slats, stack the ornaments (heaviest on bottom, lightest on top) into each compartment.

Label the boxes and store them in a safe, dry place.